Senators part ways with Dorion, appoint Staios as interim GM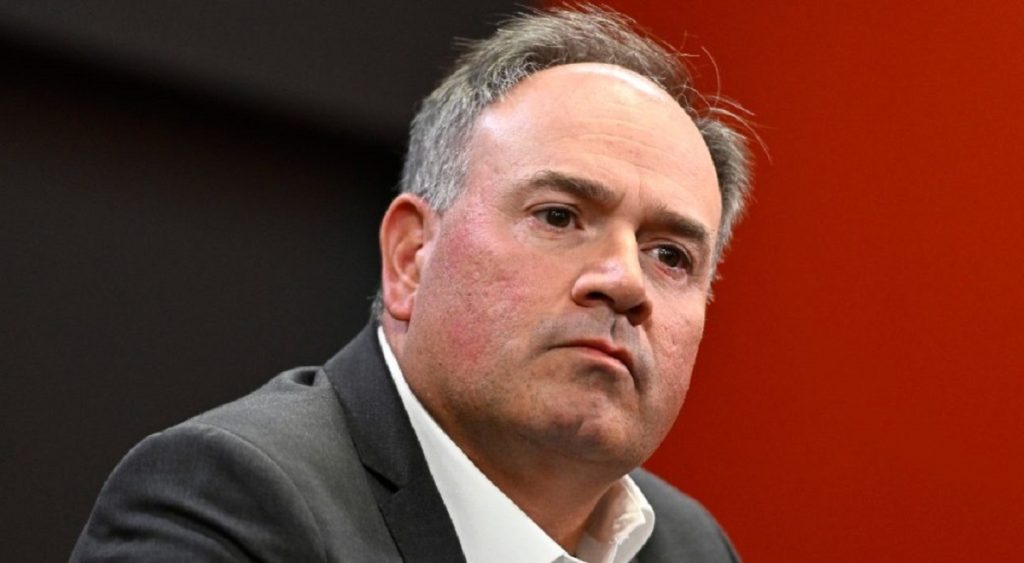 Posted Nov 1, 2023 03:04:08 PM.
Last Updated Nov 1, 2023 09:05:57 PM.
The Ottawa Senators parted ways with GM Pierre Dorion on Wednesday after the team was docked a first-round draft pick for its role in an invalidated trade involving Evgenii Dadonov.
Sportsnet's Elliotte Friedman was first to report the two sides had parted ways.
The league announced the discipline against the Senators on Wednesday. Within hours, club majority owner Michael Andlauer confirmed Dorion's departure at a press conference in Ottawa, saying the GM has "resigned and been relieved of his duties as general manager."
Steve Staios, president of hockey operations, will handle the GM duties in the interim, Andlauer said.
"My first 30 days as owner of the Ottawa Senators has exceeded all expectations," Andlauer said. "Unfortunately our last 10 days have not been as much fun for me."
In that, Andlauer was referring to the team's 4-4-0 start, a bevy of injuries that have beset the team, a 41-game suspension to forward Shane Pinto for violating the NHL's gambling policy, and then Wednesday's discipline by the league with respect to the Dadonov trade.
Andlauer said the league shared a 73-page report with him last week detailing its investigation into the invalidated Dadonov trade. When asked why it took so long for the league to issue a ruling with regards to something that occurred in March of 2022, Andlauer said that was something to ask the NHL.
Andlauer, who was only installed as owner on Sept. 21, said the club's failure to pass on Dadonov's no-trade list to the Vegas Golden Knights when he was traded there in 2021 ultimately "embarrassed the league and pissed off two other NHL clubs."
That error, which Andlauer called "downright negligent" and "not that complicated" later caused issues when the Knights tried to send the now 34-year-old to Anaheim, who were on Dadonov's list of destinations he couldn't be traded to. The league later had to invalidate that Vegas-Anaheim trade because of this.
After speaking to NHL commissioner Gary Bettman last Tuesday and familiarizing himself with the league's report, Andlauer said he sat down with Staios later in the week to discuss the possibility of making a change at GM. That ultimately led to a conversation with Dorion.
"Last night, sat down with Pierre and discussed the situation and how serious it was and how I couldn't come with a lesser penalty," Andlauer said. "And it was decided over dinner it would be best to part ways."
Dorion had been with the Senators since 2007, joining the club as chief amateur scout after 11 years with the Montreal Canadiens and two with the New York Rangers. Within two years, he was named director of player personnel before attaining the position of assistant general manager in 2014.
In 2016, when then-GM Bryan Murray stepped down (largely due to a cancer diagnosis that would claim his life in 2017), Dorion was named as his replacement.
His departure allows Andlauer to make his own choice for the position. Andlauer hired Staios as president of hockey operations — a position above Dorion — just eight days after taking control of the club.
"At the end of the day, we are at fault for what transpired," Andlauer said. "We can argue about how harsh this penalty was, but ultimately this could have been avoided and accountability is with our hockey club. Pierre was ultimately responsible for the hockey operations of this club."
During Dorion's seven seasons as GM, the club posted a record of 225-261-59, making the playoffs only once. That was back in 2017, when the team lost in Game 7 of the conference finals to the Pittsburgh Penguins.
Dorion (under previous owner Eugene Melnyk) fired two head coaches, with D.J. Smith assuming the role since 2019. After narrowly missing the playoffs last spring, the team entered the season with lofty expectations, but is currently sitting one spot out of last place in the Atlantic Division.
"I think it's a very strong price to pay," Andlauer said, with respect to the lost draft pick, "but at the end of the day, this could all have been avoided."