Las Vegas union hotel workers ratify Caesars contract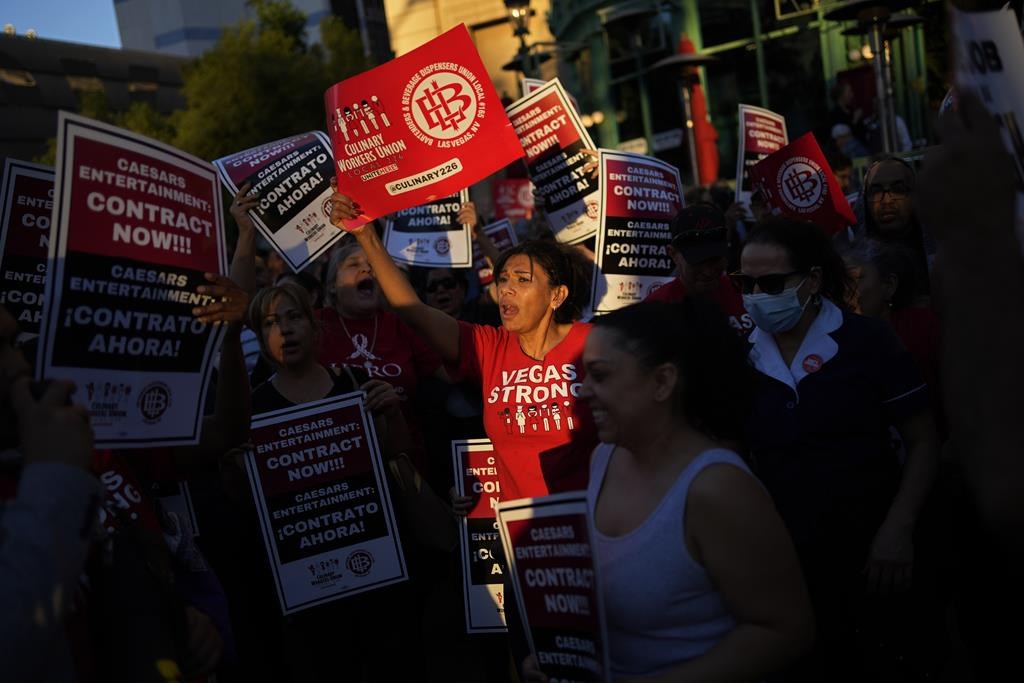 Posted Nov 21, 2023 02:12:49 AM.
Last Updated Nov 21, 2023 02:24:06 AM.
LAS VEGAS (AP) — Las Vegas hotel union workers voted overwhelmingly Monday to approve their contract agreement with casino giant Caesars Entertainment, signaling an end to lengthy labor disputes that had brought the threat of a historic strike to the Strip.
The Culinary Workers Union announced on X, the platform formerly known as Twitter, that 99% of the vote favored the new five-year deal.
"BEST CONTRACT EVER! Congratulations to 10,000 hospitality workers!," the post said.
The union is expected to also approve its proposed contracts with Wynn Resorts and MGM Resorts International, the Strip's largest employer, later this week.
The breakthrough deals were tentatively reached earlier this month, just hours before the union had threatened a massive walkout at 18 hotel-casinos on the Strip, including Bellagio, Paris Las Vegas, MGM Grand and Caesars Palace.
In a statement, Ted Pappageorge, the union's chief negotiator, said the workers had been willing to take a cut in pay if the union had gone on strike. He said they sacrificed their free time over seven months of negotiations to help secure historic pay raises and other major wins, including housekeeping workload reductions and improved job security amid advancements in technology.
"Nothing was promised or guaranteed, and thousands of workers who participated in rallies, protests, civil disobedience, picketing, surveys, picket sign making, strike vote, and delegations inside the properties sacrificed to win a better future for themselves and our families," said Pappageorge, himself a former union hospitality worker who went on strike in 1991 with 500 other employees at the now-shuttered New Frontier Hotel and Casino in downtown Las Vegas.
It became one of the longest strikes in U.S. history, stretching more than six years. The union said all the strikers returned to their jobs afterward with back pay and benefits.
Now, Pappageorge said the union has won a 32% pay increase for its members over five years, with workers receiving a 10% bump in pay during the first year of their new contract. He said that totals about $2 billion from the casino companies by the end of the contract.
The contracts cover more than 35,000 employees at properties along the Strip that are owned or operated by Caesars, MGM Resorts and Wynn Resorts.
By the end of the contract, Pappageorge said, union workers will be earning on average $35 hourly, including benefits. Union workers currently make about $26 hourly with benefits.
Pappageorge thanked the casino companies in his statement "for doing the right thing and investing in the frontline workers who make the entire industry run successfully."
In separate statements released when the deals were reached, the companies said the contracts recognize the union workers for their contributions to the companies' success, with historic pay raises and opportunities for growth tied to plans to bring more union jobs to the Strip.
A strike by employees of all three companies would have been historic, both for its size and timing.
The union — the largest in Nevada with about 60,000 members statewide — had threatened to go on strike less than a week before Formula 1 was set to debut its new race course on the Strip.
Experts said the impacts of tens of thousands of workers walking off the job would have been immediate: Reduced room cleanings. Dirty, unpolished floors. Neglected landscaping. Slow service at restaurants and bars. Long waits at valet. Limited room availability.
The Culinary Union's threat to strike added to a big year for labor unions, including walkouts in Hollywood that ground the film and television industries to a historic halt, UPS' contentious negotiations that threatened to disrupt the nation's supply chain, and the ongoing hotel workers strike at Detroit's three casinos, including MGM Grand Detroit.
Rio Yamat, The Associated Press