About a decade ago, Audrey Bond had an idea, or rather, a need: a secure system for caregivers who need to organize medical, financial, and personal documents, and one that would allow her to share those documents safely and easily. At the time it was personal, informed and inspired by her own struggles to share her daughter's health documents with an ex-partner with whom, at the time, the level of communication was not great.
"I wanted a centralized location to store (the documents) and share it with him," Bond says. "I looked around, and almost all my friends were having the same problem."
Ten years later, the final product — an app called Vaultt — is launching in earnest this week, after a lengthy beta testing period and a decade of refining the idea.
"This was too big a thing to just pluck away at," Bond, Vaultt's CEO and founder says, discussing her first kick at developing the app. "I walked away from it then — but I did start!"
A few years ago, Bond ran into one of the developers she had consulted earlier, who asked what had ever happened with that idea. By that point, Bond was a card-carrying member of the 'sandwich generation' — adults caring for their children on the one end, and acting as caregivers to their aging parents on the other.
"I remember saying to myself how badly I wanted Vaultt at that point," she says. And she realized, talking to the developer, that the opportunity she had dropped a decade ago was still there for the taking; the need had not been filled. If anything, it had grown. "If I didn't follow through and build this," she says, "I would regret it for the rest of my life." And so it became time to, as she puts it now, burn the boats, burn the bridges, and jump headfirst into developing Vaultt.
At the heart of the app is a simple question: "what's the point of having such an important document if you can't access it?" It proved to be a vexing problem, one that got more complicated as you kept working on it. Simple file-sharing apps, like Dropbox or Google Drive, lacked the kind of security that official documents required; other medical-information apps weren't collaborative, and she couldn't easily share the documents with other family members or professionals. Vaultt, on the other hand, built in both, with end-to-end encryption — "something we've built in that you aren't seeing with a lot of the competition," Bond says. (Bond calls Vaultt "not an inexpensive app to build," but notes that they did build it entirely locally, something that was important to them.)
The app's release comes at a time when the work — and the challenges — of caregivers are driving conversations, both before COVID and in its wake. "More people are aging in place," Bond points out, and women are often waiting longer to start families. The sandwich generation that Bond talks about (and identifies as) are caught between these two trends, in many cases becoming doubly responsible for the health care of loved ones. She envisions Vaultt as a kind of counterbalance to the stress that can cause — one less thing to think about, when you're constantly thinking about your caregiving responsibilities.
"When you're overwhelmed with responsibility, it very easy to forget things," she says. "It's built to help families and caregivers communicate, and alleviate stress — because there is a heck of a lot of it when you're caregiving."
The app will launch with a subscription plan, a business model that helps the app be sustainable. Vaultt is already partnering with the Canadian Forces to help facilitate communication between active duty members and their families, and they are hoping that the launch leads to more partnerships down the road. The app will be available on both the Apple App Store and Google Play Store in the near future, with a discounted subscription price available to early members.
From there, the hope is that the service will help make it clear how important it can be to empower caregivers with access to their own information and data. Whether that's caregivers of children who need referral forms to try and find a good fit specialist, or someone taking care of a parent who may be transitioning into assisted living — Bond's belief is that by giving caregivers that control, that the care will get better and become more personalized.
"Our goal, our vision, it to one day have this supported in a lot of long-term care homes," Bond says. "It's the perfect tool for caregivers."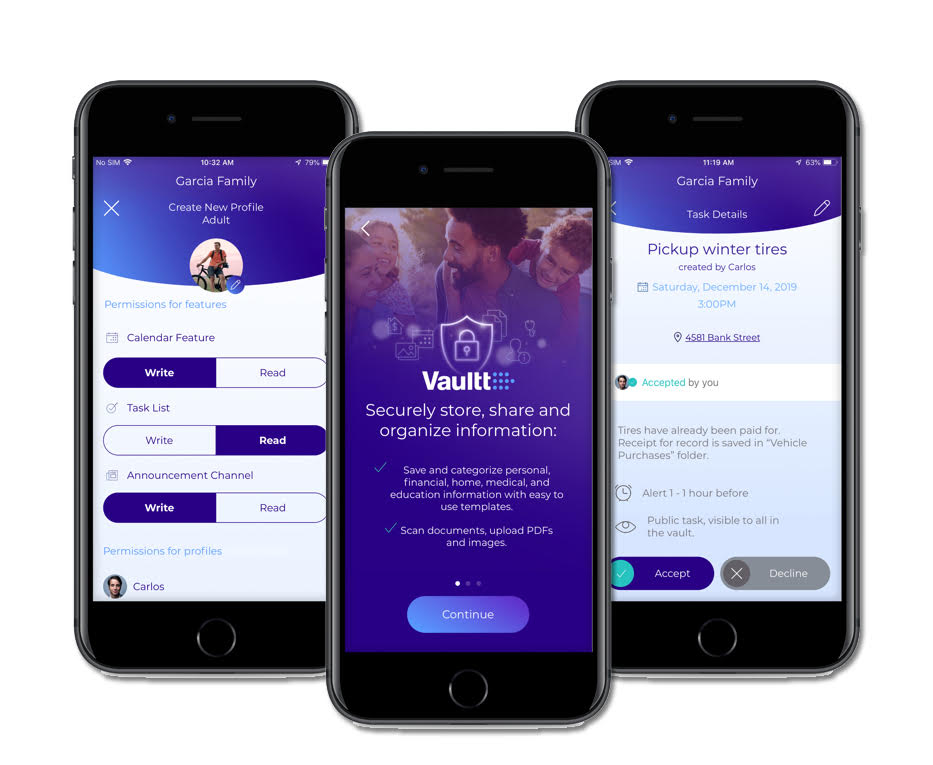 Screenshots from the Vaultt app. Supplied.
Got a business in mind for the next What's Up Wednesday? Contact the author at delamont.kieran@gmail.com.