Having dogs and cats can be very rewarding, but it also comes with responsibilities. You want to keep your furry companion happy, healthy, and safe, so here are some tips for taking care of your pet.
Microchips
When a pet goes missing, it can be a traumatic experience. Why not give your pet the best chance of being found by microchipping them?
Microchips offer a permanent solution to pet identification compared to collar tags that can break and become difficult to read over time. Plus, they last a lifetime!
The microchipping process is quick and can be done in the exam room. If your missing pet makes its way to a shelter or vet, staff can use a scanner to read the identification number on the implanted chip. Since this number is unique to your pet, the staff will be able to use it when connecting with the lost pet recovery service. Then, the team will contact you so that you can bring your pet home. Amazing, right?
Did you know microchips aren't just for dogs? Curious cats are great candidates. If you're interested in microchipping, talk to your vet or local shelter.
Spaying and Neutering
The best way to prevent animal homelessness is to spay or neuter your pet. There are medical and behavioural benefits too. Pets that have been spayed or neutered tend to live longer for a variety of medical and behavioural reasons. They're also less likely to roam and mark their territory in the house.
Pet-Proofing
Puppies and kittens are naturally curious, but some older dogs and cats don't seem to outgrow their mischievous streak! That's why pet-proofing is a good practice, no matter how old your pet is. The first step? Think like a dog or cat. Look around the house from the perspective of your pet and spot potential hazards. Keep an eye out for:
Loose cables, cords, and wires
Hiding spots behind or under furniture
Hazardous chemicals (especially in the garage)
Toxic plants
Containers with missing lids
Pet Insurance
The stress of an unexpected trip to the vet can take its toll on pet owners. What if you don't have the funds to pay for veterinary care? In the event of an illness or emergency, pet insurance provides owners with financial support that can help ease the burden of costly vet bills.
Keeping your pets happy and healthy is a priority, and pet insurance can help. It's important to find flexible plans that work with your budget and are designed by veterinarians. Pet owners like you deserve ultimate peace of mind by putting your dogs and cats first.
To help you give your pets the best care, CAA has partnered with Pets Plus Us to offer Pet Insurance.
The more knowledge you have, the better prepared you'll be to become a responsible pet owner.
With CAA you can save up to 12%* on Pet Insurance. If your pet has an accident or becomes ill, you'll want to give him or her the best care, without worrying about the expense. Visit getcaainsurance.ca for more information or get a quote online.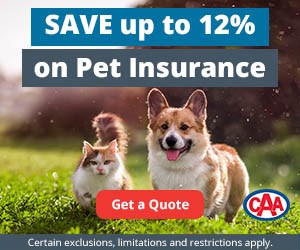 1 Jessica M Hoffman, Dan G O'Neill, Kate E Creevy, Steven N Austad, Do Female Dogs Age Differently Than Male Dogs?, The Journals of Gerontology: Series A, Volume 73, Issue 2, February 2018, Pages 150–156.
*CAA Members receive a preferred rate of 12% off. Non-members receive a preferred rate of 7% off.
The information herein is summarized. All Pet Insurance plans have limitations and exclusions. Specific products, features, coverage limits, rates, and discounts may vary by province, eligibility, and are subject to change. Medical Conditions that are noted, symptomatic or diagnosed prior to enrollment, or during a waiting period are pre-existing to Coverage and not eligible for reimbursement. This advertisement is an outline only, the actual policy issued Terms and Conditions will prevail.
© 2022 All rights reserved. Pets Plus Us Pet Insurance policies are underwritten by Northbridge General Insurance Corporation, distributed by PTZ Insurance Services Ltd. & Société d'Assurances Collectives (Sodaco) Inc. in Quebec. Pets Plus Us Pet Insurance is available in all provinces and territories.