Take a road trip to Anywhere, Ontario and the story is the same: the cost of living is going up.
For many Ontario families, that means trimming the budget here, and stretching the dollar there.
In fact, more than half Canadians told an Ipsos survey that say they can't keep up with the cost of living, as inflation surpasses 5 percent for the first time since September 1991. And gas prices are pinching wallets even further. A quick check of the CAA Gas Prices tool shows that in one year, the price at the pump has jumped 62%.
How are Canadians coping? Three-quarters have modified their spending, with 53% cutting back on discretionary spending, another 41% are putting major purchases on hold and 31% are cutting back on car trips -- another recent survey found that 53% of Canadians say gas prices have affected their summer road trip plans.
Yet, after two years of pandemic life and restrictions, there are still ways to hit the road, see the world and enjoy life's small pleasures and its great big adventures.
What can CAA do to help?
More and more Ontarians are looking for ways to maximize their income through coupons and discounts. And that's where a CAA Membership can help. It provides roadside assistance from Canada's Most Trusted Brand (for the fourth year), and surprising savings on a huge range of lifestyle purchases.
Save on CAA Auto and Home Insurance¹ . Not only do CAA Members save on auto, home, travel and pet insurance, but they can also save up to 22.5% for bundling CAA Auto and Home Insurance. And don't forget, if you drive less than 12,000 km/year, you may be able to save with CAA MyPace™. Canada's only pay-as-you-go insurance payment program for low mileage drivers.

Save at the pump. When families are watching the budget, savings on day-to-day expenses like fuel can add up. CAA Members save 3 cents a litre at participating Shell stations² , plus they save 10% on in-store purchases and another 10% on car washes. *Conditions apply at participating stores.

Dine out on a dime. Budget living doesn't have to mean cutting out the simple pleasures of dining out when it comes to CAA Membership. Members save on a huge range of restaurants for dining in or takeout.

Plan your trip,save on tickets. Want to go white water rafting, visit Canada's Wonderland, see historic sites or spend a day sailing? CAA Membership means discounts on entertainment and excursions for the whole family, right across the province.

Even Memberships come with a discount. This summer, CAA is offering 15% off new Memberships. Don't drive or need roadside? CAA Everyday costs just $30 a year plus tax and includes savings on travel, dining, shopping and insurance, and comes with Bike Assist™.
Want to sign up and save?
Visit GetCAA.ca.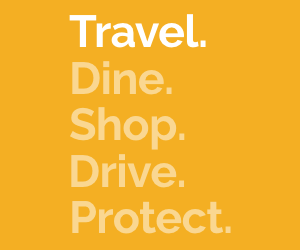 ¹Auto & Property Insurance are underwritten by CAA Insurance Company. Certain conditions, exclusions and underwriting eligibility rules apply. Vehicle compatibility and enrollment in CAA MyPace payment program is subject to terms and conditions. ®/™ CAA trademarks are owned by, and use is authorized by, the Canadian Automobile Association. CAA Travel Insurance is underwritten by Orion Travel Insurance Company, a CAA Company. Certain exclusions, limitations and restrictions apply. A Medical Questionnaire is required if you are 60 years of age and older. © 2022 All rights reserved. Pets Plus Us Pet Insurance policies are underwritten by Northbridge General Insurance Corporation, distributed by PTZ Insurance Services Ltd. & Société d'Assurances Collectives (Sodaco) Inc. in Quebec.
²Conditions apply. Available at participating Shell locations only. See terms and conditions for details. *Visit caaneo.ca/shell for more details.