Meridian Theatres @ Centrepointe and Shenkman Arts Centre have a lineup to please everyone!
For music fans look out for everyone's favourite Eastcoaster choir, Men of the Deeps, at Meridian Theatres @ Centrepointe.
There's also the Grey Jazz Big Band, Canadian favourite Serena Ryder as well as local stars, JW-Jones and Rebecca Noelle. The Ennis Sisters get us in the Christmas spirit with their festive show while Mardi Gras Mambo brings their New Orleans sound to the stage with Dirty Dozen Brass Band and Nathan & The Zydeco Cha Chas. Also, internationally renowned Brooklyn band, Red Baraat bring their fusion of North Indian bhangra, hip-hop, jazz and raw punk energy.
Black History Month is celebrated with Freedom! The Spirit and Legacy of Black Music, a musical tribute to the black music of those who landed on Canadian soil to the music we hear today created, directed and starring Beau Dixon.
For dance enthusiasts, Anne of Green Gables – The Ballet, will be toe pointing into town, and Ill-Abilities dance crew are set to wow with their incredible skills. Cirque Kalabanté - Afrique en Cirque, has to be seen to be believed.
Check out CBC's The Debaters, Paul Reiser, and Just for Laughs Road Show for a night of laughter.
Let's not forget about family time. Everyone's favourite sandwich eating bear, Paddington, presents a hilarious slap-stick show, Paddington Gets Into a Jam and Alice in Wonderland takes us on an adventure down the rabbit hole.
Shenkman Arts Centre is exploding with creativity with the No Borders Art Festival, and the Orléans Christmas Bazaar. Through My Eyes, Jeremy Fisher sings Jeremy and Jazzy, and Fête Frissons provides family entertainment for all ages.
Live music is in abundance with The Pursuit of Happiness and Nothern Pikes, Miss Emily and Jenie Thai, Michael Kaeshammer, William Prince, Adrian Sutherland, Great Big Sea's Séan McCann sings the Great Big Song Book, The Irish Rovers, and An International Roots 'n' Blues Kitchen Party rounds with Canadians Suzie Vinnick and Charlie A'Court, and Australian Lloyd Spiegel.
Comedy comes in the form of the annual New Year's Eve Comedy Night, and be prepared to go on a journey with TREATY: A Reconciliation Revelry, a concert event that provides audiences with historical context for understanding Indigenous experiences and Indigenous realities today through use of video, narrative and popular music.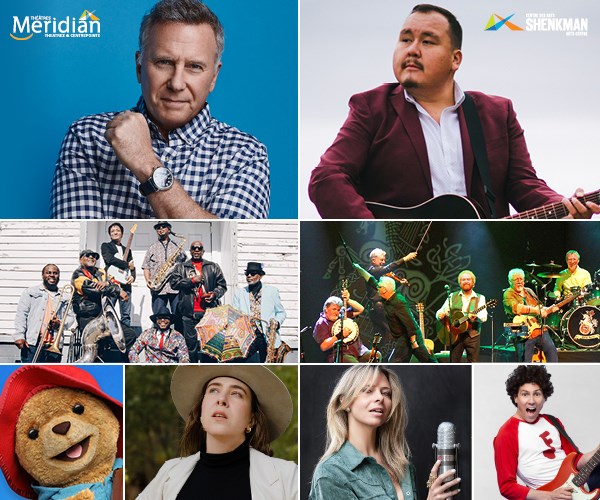 A huge lineup for an exciting year of entertainment in our city!
Check out more online at meridiancentrepointe.com or shenkmanarts.ca!