National Pet Day is April 11, and it's a perfect reason to give your furry friend a few extra treats or some extra head scratches.
Have you ever wondered why we are so attached to our animals? For millennia, humans have lived with cats and dogs, and bred them for specific purposes like hunting, companionship and protection. The result is that cats and dogs aren't just pets, they are family.
It is easy to tell if you've bonded with your pet.
Are you always the first one they want to snuggle?
Do you receive an exuberant welcome when you return home?
Can they relax when they're around you?
Or have you noticed that your pet shares your excitement or comforts you when you're down?
If you answered "yes," to any of those questions, way to go! Of course, there are many ways a cat or dog can show their affection – every relationship has its quirks and inside jokes.
But the bond between you and your pet isn't only about being there for the good times. Just like you would make a bowl of chicken soup for an ill family member, when your pet is sick or injured, they rely on your help recovering.
Unfortunately, providing proper care can be a big hit to your budget. So, you'll want to get a pet insurance policy to help avoid these unexpected costs.
To help find the right pet insurance, here are some points you should look for:
Flexibility & Convenience – You want a plan that works best for your household and the ability to pick which licensed veterinarian and specialists your pet visits.
Honesty about Coverage – You need to clearly understand what is covered by the plan, as you don't want any future surprises.
No Breed Exclusions – Are there any breed exclusions or exclusions for health conditions associated with the breed?
Lifetime Guarantee – Check if you can enroll for coverage, with benefits guaranteed to renew each year.
Coverage at any age – Make sure to inquire if a pet can be too old for coverage. It is recommended to get a policy as early as possible – because there will likely be fewer pre-existing conditions.
CAA North & East Ontario has partnered with Pets Plus Us to be able to offer Pet Insurance that checks every one of these points.
Pets Plus Us plans include coverage for illness, accidents, hospitalization, surgery, hereditary conditions, diagnostics, prescription medications, alternative therapies, and behavioural therapies. They also include other special benefits, such as boarding costs should you be hospitalized and unable to take care of your pet; and holiday trip cancellation if your pet has a medical emergency.
CAA Members save 12% and non-Members save 7% on Pet Insurance. Visit getpetinsurance.ca for more information.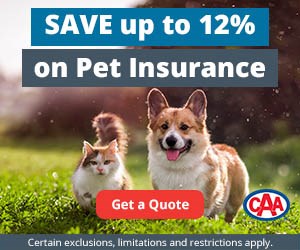 Legal Text
*CAA Members receive a preferred rate of 12% off. Non-members receive a preferred rate of 7% off.
The information herein is summarized. All Pet Insurance plans have limitations and exclusions. Specific products, features, coverage limits, rates, and discounts may vary by province, eligibility, and are subject to change. Medical Conditions that are noted, symptomatic or diagnosed prior to enrollment, or during a waiting period are pre-existing to Coverage and not eligible for reimbursement. This advertisement is an outline only, the actual policy issued Terms and Conditions will prevail.
© 2022 All rights reserved. Pets Plus Us Pet Insurance policies are underwritten by Northbridge General Insurance Corporation, distributed by PTZ Insurance Services Ltd. & Société d'Assurances Collectives (Sodaco) Inc. in Quebec. Pets Plus Us Pet Insurance is available in all provinces and territories.