Trudeau's cross-country town halls are back with a new format — and new skeptics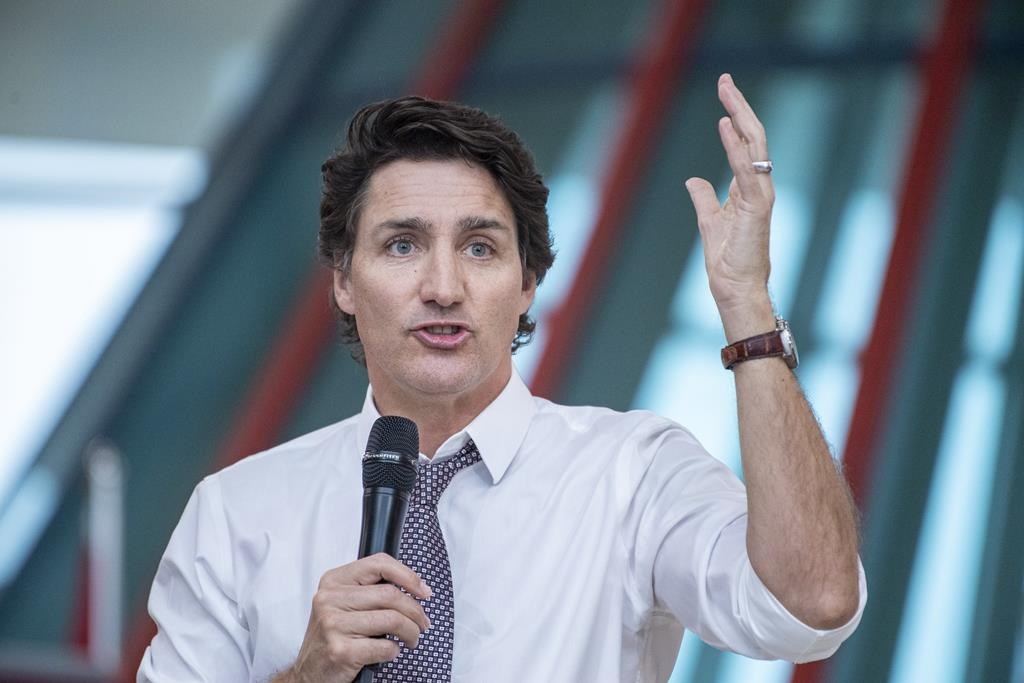 Posted Apr 15, 2023 12:40:13 PM.
OTTAWA — Every town hall begins the same way: Prime Minister Justin Trudeau arrives in a blue or white shirt with rolled-up sleeves, takes the microphone, waxes poetic about the state of the world and acknowledges the challenging years Canadians have recently faced.
The people in the crowd who will have the chance to ask unvetted questions of the prime minister are no stranger to those struggles.
There's the Muslim mother who fears for the safety of her children. Immigrants who worry about their future in Canada. The blue-collar worker who can't afford to eat. People who can't find work or access mental-health supports. Young adults who lose sleep over climate change. Indigenous people who say they feel left behind.
At the 14 hour-long town halls Trudeau has attended in the past 11 weeks, the prime minister has put himself in a position to hear their concerns during the question-and-answer sessions that follow his speeches.
But though some attendees who participated in the events said they were encouraged by Trudeau's efforts, others found themselves cynical about whether he and his government were actually listening.
For Trudeau, it's a familiar format — and one that some pundits say could serve the party well, even if its utility to the broader public is in question.
"This is something I love doing," Trudeau said to a group of tradespeople in Winnipeg earlier this week.
Since the COVID-19 pandemic began in 2020, the prime minister had limited his interactions with the public because of public-health measures that kept people distanced from one another.
"I'm betting that he was itching to do these during the whole pandemic and during the 2021 (election) campaign, because for the most part he couldn't do it," said Philippe J. Fournier, the polling analyst behind the 338Canada poll website.
"I'm thinking that he's really happy to be back on the road. This is what he does best."
But after nearly eight years in office, Trudeau faces a different political culture.
Fournier pointed out that in 2016, Trudeau was treated like a rock star when he would visit places such as Mississauga, Ont. — but when he ran for a third mandate in 2021, he was met with angry protesters at many campaign stops.
One man in London, Ont., even threw rocks at him.
"The country changed," Fournier said. "People are angry out there and would take a shot at him if they could."
So while Trudeau used to hold town hall events that members of the general public could attend, his office said it has had to change the format because of new security threats.
To set up the tour, the Prime Minister's Office reached out to specific special-interest groups — such as unions, universities and businesses — asking if they'd like to host a town hall.
Some attendees said it forces people to be respectful because they're in a professional setting that often links to their workplace.
"We were told that we can ask questions, and feel free to ask some hard questions, but be respectful," said Christina Brock, who helped organize a town hall in Port Coquitlam, B.C., with trade workers and apprentices who were members of a local union.
The groups who organize the town halls are responsible for the guest lists, but must keep the events under wraps. It's a way to get around security risks without vetting each member of the audience.
"We had to keep it secret, and be cautious with who was invited," Brock said.
Most people who are invited to the events don't know who the speaker is and are simply told it will be a "high-ranking government official."
Many Canadians who attended the town halls know it's a rare opportunity to air their grievances face-to-face with the prime minister, and say they are grateful for the chance.
It's common for people to live-stream their interactions with him on social media, and swarm him after the event to get a selfie or shake his hand.
When in Winnipeg this week for a University of Manitoba town hall, Trudeau was confronted by a self-proclaimed People's Party of Canada supporter in an exchange that was recorded by a Reddit user and quickly went viral online.
The young man said the Liberal party's support of abortion rights made it "against Christianity," and when the prime minister asked whether women should have the right to "choose what happens to their own bodies," he replied: "Personally, no."
The back-and-forth continued, with Trudeau ultimately patting the young man on the shoulder and saying: "Sounds like you need to do a little more thinking, and, and a little more praying on it as well."
Trudeau received some praise on social media for how he handled the interaction — and Fournier suggested that's no surprise.
"Historically, these events have been very kind to Trudeau," Fournier said. "He's really good when speaking with people."
However, Scott Reid, a former senior advisor to Liberal prime minister Paul Martin, cautioned that town halls can become a bubble that are not necessarily reflective of a nation's mood — even if there are some political benefits to holding them.
And the excitement of being in a room with the prime minister can quickly wear off.
Tyler Fulton, a cattle rancher in Manitoba, attended a town hall hosted by the Canadian Federation of Agriculture in Ottawa, where he asked a question about preserving prairie grasslands. He called it a good opportunity to engage with the leader, even though he said Trudeau can come across as contrived.
But Fulton said that when he tried to reach out to Trudeau's office to follow up on his concerns, he didn't get a response.
"If you're going to have these venues, then you need to follow up," said Fulton, who also works for the Canadian Cattle Association.
"Otherwise, people just become cynical about the purpose of them."
At the Port Coquitlam town hall, Brock asked Trudeau a question about mental health, and his answer included a recommendation for people to take a mental health first aid course — something she'd already done.
She later joked that she should have worn her "mansplaining-free zone" t-shirt. But she said that she was pleased with the event overall.
"I think it shows a different side of Justin. It makes him more relatable," Brock said. "I hope that he understands and takes the suffering he hears from people back to Ottawa. If he does that, then it does serve the public."
At the end of the day, the town halls benefit the Liberal government because it gives Trudeau an opportunity to talk about his agenda and promote what the government has been doing, said Stuart Barnable, senior director of public affairs at Hill+Knowlton Strategies.
"I think that this can only serve to benefit what the Liberals are trying to accomplish," said Barnable, who also served as a chief of staff to Senate Speaker George Furey.
"They're setting their narrative," he said. "Whether or not it resonates with Canadians."
This report by The Canadian Press was first published April 15, 2023.
Mickey Djuric, The Canadian Press