Invasive giant hogweed spreading in Ottawa, avoid contact say experts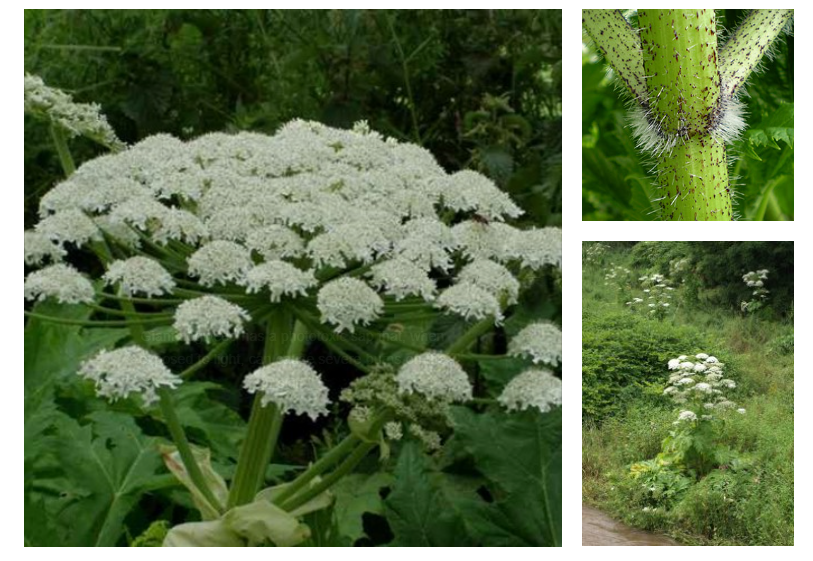 Posted Jul 24, 2023 01:39:33 PM.
Last Updated Jul 24, 2023 03:41:12 PM.
A rise in giant hogweed across the Ottawa Valley has the Nature Conservancy of Canada (NCC) warning residents to avoid contact with the toxic plant.
The non-native species, which can grow up to five metres tall, is flowering over the summer months, containing large clusters of white flowers and purple prickly stems.
Andrew Holland, the national media relations director for the NCC says this species is one of Canada's most dangerous because it produces a large amount of sap, containing chemicals that readily react with sunlight.
"If you get the sap on your skin and you're exposed to sunlight, you can get severe blisters and even second and third degree burns," said Holland on The Sam Laprade Show with guest host Derick Fage on July 24.
If the toxic sap comes in contact with bare skin and is exposed to the sun, this can result in third degree burns.
According to Holland, Giant Hogweed was brought to Canada from Asia and Eastern Europe in the 1940's, as a decorative horticultural plant. While the species has spread across numerous provinces – locally, it has been spotted in Lanark County, Ottawa South, Renfrew County, Pembroke, Perth and Smiths Falls.
The invasive species produces between 50,000 and 150,000 seeds every two to three years, explained Holland. Once the plant flowers and seeds, it will die but seeds are viable in the soil up to 15 years,
"When you get winds, the seeds can disperse widely, as well as birds picking up the seeds and traveling with them," said Holland. "When you get heavy rains and any flooding conditions, the seeds get transported downstream and germinate, and the cycle continues,"
Giant Hogweed can also be identified based on where it grows, added Holland. The species can be found along streams, trails, roadsides, ditches, open fields and woodlands.
If sap comes in contact with skin, remove sap with a paper towel – avoiding rubbing – and clean the area thoroughly with soap and water to reduce the severity of the reaction, suggested Holland.
"If sap comes in contact with your eyes, rinse with water for at least 10 minutes and wear sunglasses to avoid exposing your eyes to the light," he explained.
According to Holland, Nature Conservancy of Canada – established in 1982 – aims to acquire private lands for conservation and work with municipalities to conserve their lands.
"We call ourselves nature's real estate agents," said Holland. "We work with willing private owners who want to sell and donate their lands for conservation."
From August third to the seventh, NCC will kick off the fourth annual Big Backyard BioBlitz, encouraging residents to learn about nature in their backyard and help protect species.
By snapping photos of plants, animals, insects, and other creatures, these observations will help scientists take stock of local biodiversity, track rare species and fight invasive species, according to NCC.
"You don't have to be a scientist or biologist to participate, everyone can get involved, with the idea that if people connect more with nature, they'll feel more strongly about the need to protect and conserve it," said Holland.