Senators' Pinto to be suspended for violating NHL gambling rules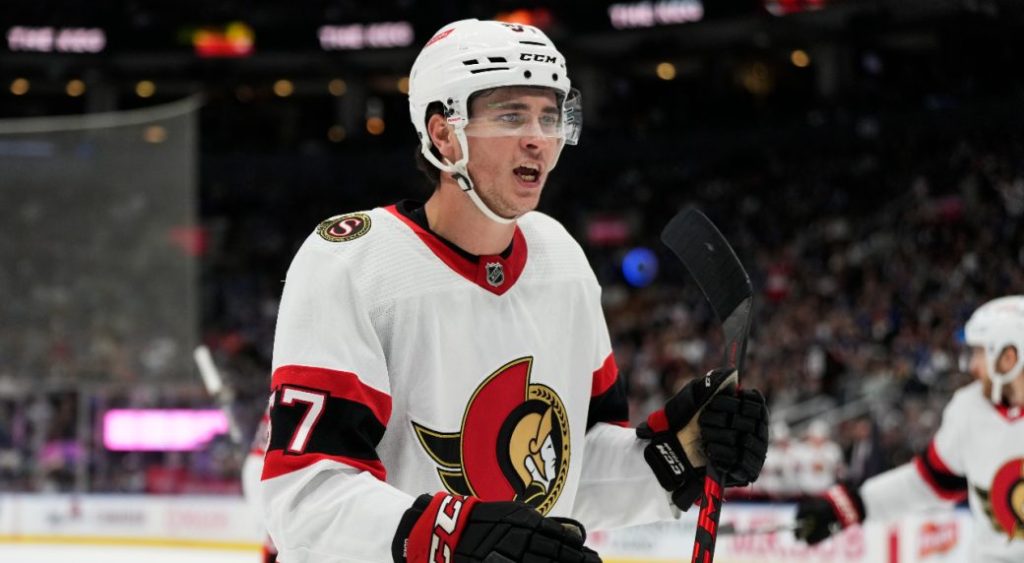 Posted Oct 26, 2023 11:28:56 AM.
Last Updated Oct 26, 2023 02:25:20 PM.
The NHL will suspend unsigned Ottawa Senators centre Shane Pinto 41 games for violating league gambling rules, multiple sources told Sportsnet.
The suspension was officially announced shortly after noon ET on Thursday.
Critically, the league did not accuse Pinto of wagering on NHL games, as a memo sent in March 2022 reminded all league and club personnel — including players — that wagering on any NHL game, even where legal, is "absolutely prohibited," and will "constitute conduct that is dishonourable, prejudicial to, or against the welfare of the League or the game of hockey" under the NHL's constitution.
The memo added that NHL commissioner Gary Bettman is authorized to "discipline individuals determined to have engaged in improper gambling activities in any or all of the following respects:" expulsion or suspension a definite or indefinite period; cancelling any contract that such individual may have; and/or by imposing a fine. "The League will act swiftly and aggressively in penalizing any League or Club personnel determined to have engaged in acts in violation of the NHL Gambling Policy," the policy states.
Pinto apologized in a statement shared through the Senators.
The exact timeline is unclear at this point, but it's believed the investigation — which began sometime during the summer — intensified over the past few weeks. All negotiations to sign him were paused as the NHL conducted a recent hearing into the matter.
The Senators said in a statement that the results of the investigation were shared with the team on Wednesday.
"Shane is a valued member of our hockey club; an engaging, intelligent young man who made poor decisions that have resulted in a suspension by the National Hockey League. We know he is remorseful for his mistakes," the Senators statement reads.
"The Ottawa Senators fully support the NHL's rules on gambling. While saddened to learn of this issue, the entire organization remains committed to Shane and will work together to do what is necessary to help provide the support to allow him to address his issues and become a strong contributor to our community.
"When the time is right and with the league's blessing, we will welcome him back to the organization and embrace him as one of our own."
Exactly what Pinto did is unknown at this time. But there are situations where leagues have punished players who did not bet on their sport. One example: In June, Tennessee Titans lineman Nicholas Petit-Frere was suspended six games for placing a legal bet at the team's facility, which is not allowed under NFL rules.
The next question is how the Senators will handle the situation. It's believed that one reason Pinto has not asked for a trade is that he appreciates the organization's secrecy about the investigation.