Mathew Paquet finds himself in the viable position of having something that, in the age of rolling COVID-19 restrictions and the uncertainty of a global health crisis, every business needs or wants: websites.
More specifically, Paquet and the company he founded with fellow University of Ottawa grads Paul Michel and Maxime Alarie, called myMarketing, are offering digital marketing services at a time when virtually every business out there is trying to figure out how to go, virtual.
Having a slick website was a major asset a year ago; now, COVID-19 has made it practically a necessity. myMarketing now finds themselves helping to make that happen.
"Whichever business you're in right now, you need to be online to be successful," Paquet says. Just having a website might be a few clicks away, as all those Squarespace ads suggest, but truly having a digital presence can't be an afterthought — something a lot of companies realized when the pandemic hit.
"Usually there's one person," Paquet says. "Their jack-of-all-trades. It's a lot of pressure on that one person."
Simply put, myMarketing's core value is to function like a whole digital marketing department.
"We see ourselves as an extension to your business," Paquet says. "We bring digital marketing strategy, expertise, and support so that you as the business owner can focus on running your business, while myMarketing generates the marketing results you've been looking for."
At just 23, Paquet has already been in this business for a while: He started graphic designing at 15; he started consulting on websites at 16. In 2019, he made this official, founding myMarketing with two colleagues he met in school.
"I started very young," Paquet says. "I was always that person who wanted to be an entrepreneur. My family's all entrepreneurs, so it makes sense. It's in my blood."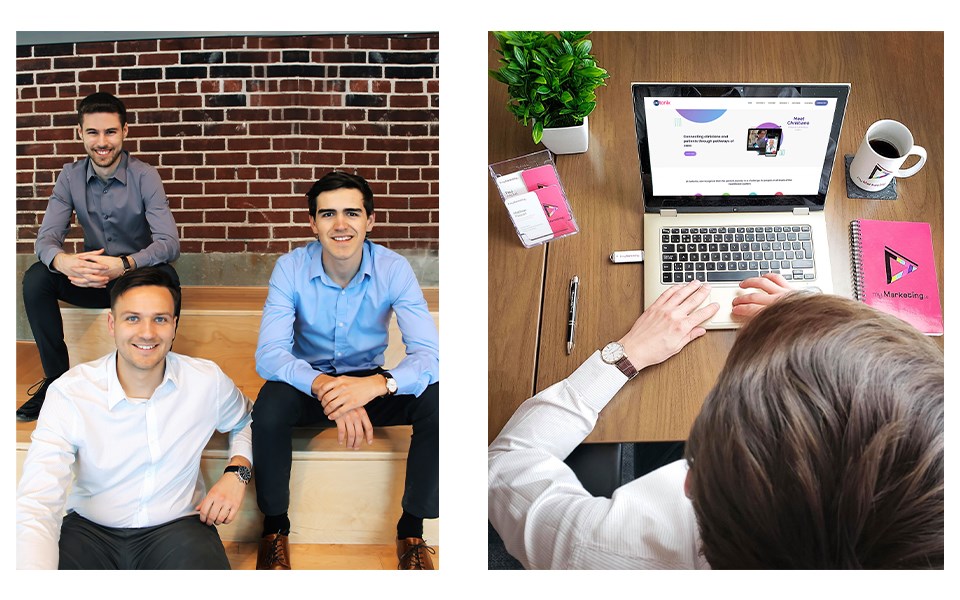 Left: Clockwise from top -- Paquet, Michel and Alarie, the three founders of myMarketing. Courtesy of myMarketing
Fortuitous timing, then, that a digital marketing boom (albeit one of necessity) was just around the corner.
"It's interesting," Paquet says. "That shift into the digital space was already happening, but COVID really accelerated it."
E-commerce websites saw their traffic increase by as much as 30 per cent, Paquet says. Many companies were forced to scramble — first, to get a professional looking website up and running, and later to help grow that website's presence and traffic (both, Paquet says, comprise the typical jobs myMarketing ends up taking on).
All this doesn't just happen out in cyberspace, either, and Paquet is conscious of the responsibility that a digital marketing firm takes on in challenging times. So much of shopping and commerce has changed. Browsing, the act of aimlessly wandering around a store waiting for inspiration to strike, is a pre-coronavirus relic.
"When you're thinking about shopping: people who shop now go online before they start their shopping journey," he says. "You're not walking around, looking at what to buy. You want to get what you need and get out of there."
COVID-19, if nothing else, has made us all ruthless and efficient purchasers; the better the website, the better the consumer.
This has meant building websites and handling the digital marketing business for old businesses adapting, or newer ones like Aetonix, a medical tech company whose mobile telemedicine platform (called aTouchAway) found all sorts of new uses during the pandemic. (It hosted two marriage proposals, Paquet adds; he assumes they both said yes.)
It's propelled myMarketing to a new level in terms of clients.
"We've seen the two sides of the medal," Paquet says. "On one side, we were slowed down … now, we're growing so fast that we need to slow down a little bit."
It has given the work of digital marketing a new twist, a new relevance, and a new sense of purpose. It isn't just 1s and 0s — when we're all stuck at home, how could it ever be? This guides the company, reminding them of their purpose.
"We believe in helping businesses here in our region before we go outside of Canada," Paquet says. Working in the local economy, connecting local businesses with local customers, puts a necessary human face on all of it, and that's what keeps the whole thing feeling good, Paquet says.
"When it's a solution that changes lives," he says, "it's just different."