Following the reports from media of the alleged deal made between Mayor Jim Watson and convoy organizer Tamara Lich over the weekend, Lich and supports took to Twitter to call such reports from media "fake news," saying no such deal happened.
However, a follow-up tweet from Lich also walked back on that claim, clarifying that trucks would still move out by 12 p.m. on Monday, February 14.
The first tweet posted to Lich's tweet account on Saturday night read: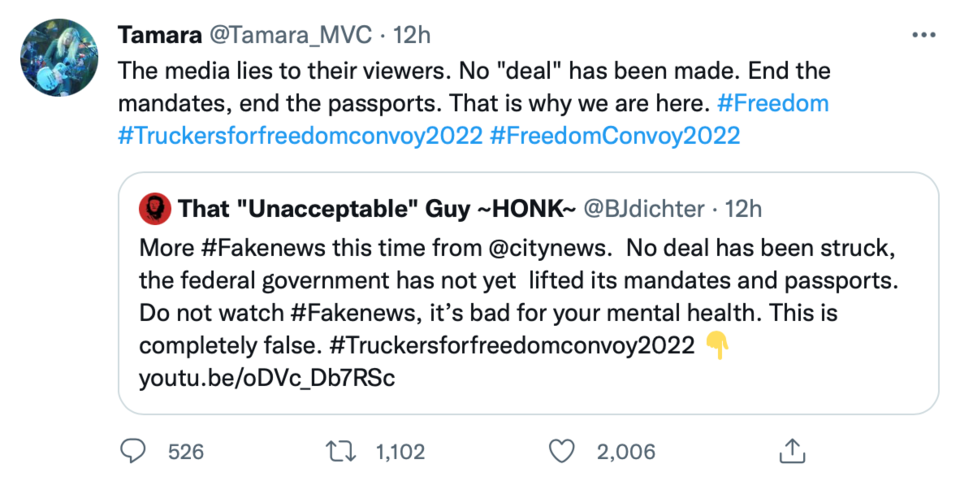 Following the publishing of the correspondence between Lich and Watson that took place on Saturday, February 12 from multiple media sources, Lich then tweeted the following hours later:

Should truckers continue with the deal, they have until noon on Monday, February 14 to hold up their end of the bargain if they want to meet with Mayor Jim Watson.
-------------
Ottawa's mayor has struck a deal with organizers of the convoy rally to limit the protest to the area immediately surrounding Parliament Hill, a move which would keep demonstrations away from residential neighbourhoods.
Mayor Jim Watson wrote a letter addressed to Tamara Lich, one of the organizers of the more than two-week-long "freedom convoy," asking that protesters confine their activities to a specific perimeter.
Protesters have jammed downtown streets since they descended on the nation's capital on Jan. 28.
The agreement would see demonstrators move out of residential areas in the next 24 hours.
The agreed upon perimeter is from Wellington Street to Elgin Street and to the Sir John. A Macdonald Parkway.
From Mayor @JimWatsonOttawa's office: an agreement in place for trucks to leave residential areas of Ottawa. Extrêmement sceptique quant à la volonté de ce groupe de respecter soudainement notre ville, mais nous verrons s'ils tiennent parole. pic.twitter.com/0TBAH4dycu

— Catherine Kitts (@catherinekitts) February 13, 2022
A response from Lich, the convoy board president, indicates protesters will comply and begin moving to their new locations on Monday, February 14.
The letter says organizers will spend the next 24 hours "working hard ... to get buy-in from the truckers'' who flooded the capital to voice their opposition to public-health measures put in place to combat COVID-19.
Watson's letter to protesters says residents are "exhausted'' and "on edge" due to the demonstrations and warns that some businesses teetering on the brink of permanent closure because of the disruptions.
Lich says Watson will agree to meet with demonstrators if trucks and other vehicles taking part in the ongoing protests are out of residential neighbourhoods by noon on Monday.
While elements of the protest have been peaceful, many others are wreaking havoc on the city's residents.
Incessant honking, loud music, public intoxication, harassing of residents, and businesses forced to close their doors have characterized the demonstration.
Some areas of downtown Ottawa have turned into a full-on party, complete with DJ, tunes, a bounce house and even a hot tub.
Ottawa residents took matters into their own hands Sunday when they organized a counter-protest at Bank Street and Riverside Drive to block convoy vehicles from entering the city.
Mayor Jim Watson will be on The Rob Snow Show at 9:18 a.m. Monday, February 14 to discuss the agreement. Tune into 101.1 FM, 1310 AM, listen live on your smart speaker or on our website.
—With files from The Canadian Press.