Three years ago, the most common questions CAA Travel consultant Sharon Lewco heard from clients booking vacations were pretty straightforward, like "What's the temperature going to be like" and "Can we upgrade our hotel rooms?"
Fast-forward to 2021 and the most frequent query is less about the destination than the risk: "What happens if things shut down again?"
"As we're gearing up for the winter travel season with snowbirds flying south and to Europe, there is an additional layer of anxiety everyone is feeling," she says.
"People are desperate to travel and resume their normal life, but they're worried about what governments will have to mandate as variants emerge."
CAA Members booking travel aren't alone in their concerns.
According to recent research, 25 per cent of Canadians are much more likely to purchase travel medical insurance than pre-pandemic. Pre-pandemic, 25 per cent of Canadians left the country without any travel insurance, while another 75 per cent bought insurance thinking it offered full coverage, only to learn the hard way that it was inadequate.
But, according to CAA's Director of Sales and Travel, Patricia Marques, there are a few ways holiday-hungry Canadians can travel with peace of mind.
Do your homework on cancellation policies before you go. "This is an extra step that will ensure you're prepared if you have to cancel your car rental, hotel, transfers or flights," she says. "Know before you go."
Chose your destination wisely. "Once upon a time, we could shoot a dart at a world map and go there," she says. "Now, we need to know what the risks are with a destination, what the vaccination rate in a country is and what your exposure to risk might be."
Get travel insurance. Pre-pandemic, travel insurance was already a multi-million-dollar industry, with the Conference Board of Canada reporting the travel medical insurance market's value at $980 million annually. Now travel medical insurance and trip cancellation insurance are critical. "CAA Travel Insurance* has options designed to protect you against the financial impacts of unexpected mishaps, with coverage that goes beyond benefits offered through other group plans or credit card plans," she notes.
Ask about COVID protection enhancements on your policy. "Traditionally, emergency medical insurance covers accidents or illness, emergency hospital transportation, accommodations and associated fees or emergency dental," she says.

In fact, CAA Travel Insurance's emergency medical plans now include up to $2.5 million** in coverage if partially vaccinated with a Health Canada approved vaccine, or up to $5 million** if fully vaccinated with a Health Canada approved vaccine, for COVID-19 related illnesses that may occur when travelling at a time when the Government of Canada has issued a related Level 3 travel advisory.
When you are ready to travel again, CAA Travel Insurance has you covered for the unexpected. Visit CAA here or call 1-800-267-8713 and you'll be on your way to a holiday with peace of mind.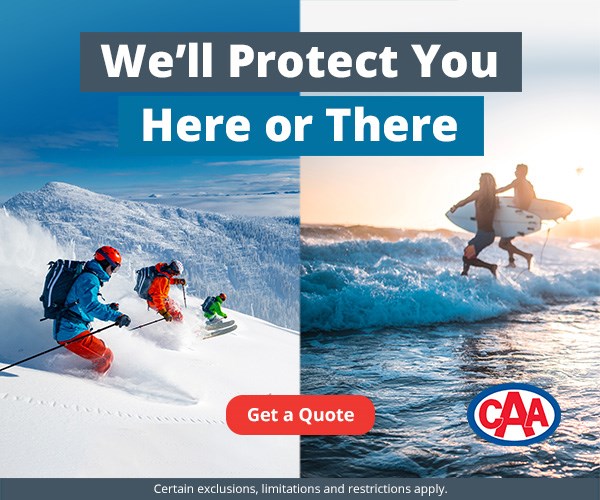 *CAA Travel Insurance is underwritten by Orion Travel Insurance Company. Certain exclusions, limitations and restrictions apply. Subject to change without notice. A Medical Questionnaire may be required to purchase travel insurance. Quotes are valid for 30 days. Applies to CAA Members in good standing (CAA Membership dues paid in full by Membership expiry date). Up to twenty per cent (20 per cent) savings applies to the total premium excluding applicable taxes. Minimum premium applies. Subject to change without notice. Excludes Visitors to Canada Insurance. CAA Rewards®, Classic®, and Plus® Members save 10 per cent. CAA Premier® Members save 20 per cent at CAA Stores or by calling 1-800-267-8713. CAA Premier Members save 10 per cent and earn 10 per cent in CAA Dollars® when booking online. **Terms and conditions apply. $5 million CAD emergency medical coverage, is dependent on having received all Health Canada approved COVID-19 vaccines, at least 14 days prior to departure. Please see the COVID-19 Endorsement for details. Orion logos or trade names are trademarks of Orion Travel Insurance Company. ®CAA trademarks are owned by, and use is authorized by, the Canadian Automobile Association.