Inside Mikyla Grant-Mentis's journey from PHF MVP to PWHL tryouts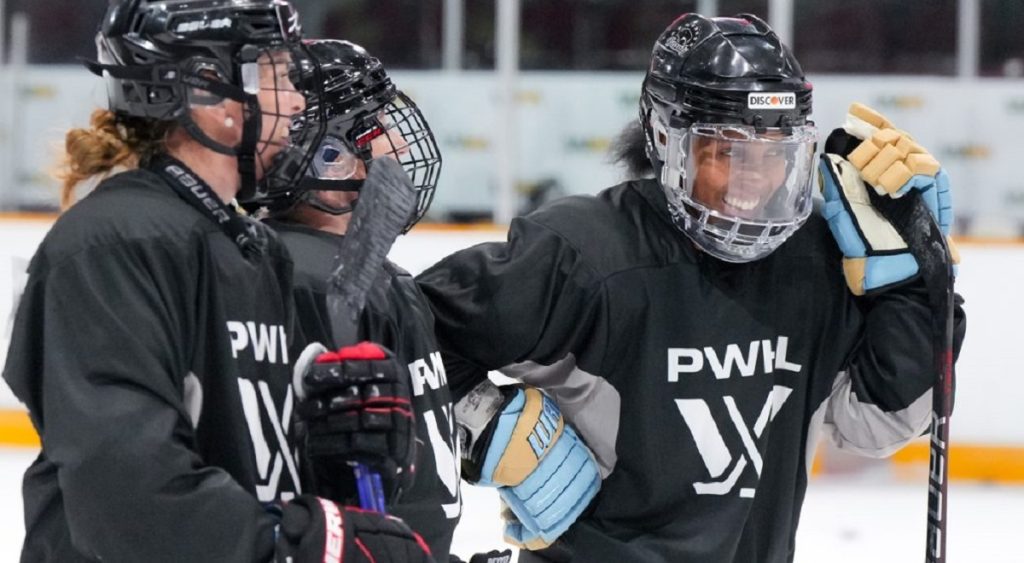 Posted Nov 21, 2023 08:12:35 AM.
Last Updated Nov 21, 2023 08:12:40 AM.
For Mikyla Grant-Mentis, it was a moment of relief, of release.
Eight months after her final game in the now-shuttered Premier Hockey Federation, one month after agreeing to attend training camp with the newly-formed Professional Women's Hockey League's Ottawa franchise, and two days after arriving in the capital and pushing through hours of fitness testing, Grant-Mentis finally stepped back onto the sheet.
"We actually got on the ice for the first time today — it was amazing," she said Friday after PWHL Ottawa's inaugural session had wrapped, marking the first steps of her long-awaited next chapter. "We played a lot of games. It was very competitive, but it was definitely a good time. We've been waiting since we got here on Tuesday to get on the ice, so it was definitely fun."
The Brampton, Ont., native has needed more patience as the PWHL has lurched into motion over the past three months than anyone familiar with her game would've thought.
Crowned PHF MVP in 2021, then made the highest-paid player in women's hockey with a landmark deal in 2022, Grant-Mentis seemed to be among the most intriguing names on the board when the PWHL convened for its 2023 Draft in September. Nevertheless, 15 rounds passed without the former PHF leading scorer's name being called.
"I mean, I think I speak for everyone that wasn't drafted — it was definitely disappointing," Grant-Mentis says, looking back on it now. "But to be honest, I think it worked out in my favour, because I was able to choose where I want to go. I was able to choose who I want to play with, basically.
"In the moment, I didn't like it. But afterwards I realized that it was definitely better."
The realization crystallized as the calls started coming in from PWHL Ottawa's newly formed front office, and the opportunity to return home to Ontario began to take shape.
"It was a quick decision to choose Ottawa — I think they called me Thursday and I basically signed the papers Friday," she says of agreeing to join PWHL Ottawa's training camp roster. "They were the first to reach out — Mike [Hirshfeld], the GM, and Carla [MacLeod, the head coach] both reached out to me pretty early on. And just from the players that they drafted, and their energy on the phone and through emails, it seemed like they would definitely be the best fit for me.
"You know, I have a couple of friends on the team as well, so it was kind of a no-brainer for me."
Tops among that familiar crowd is Daryl Watts, a close friend of Grant-Mentis's since the pair were teenagers skating circles around the rest of the Provincial Women's Hockey League in Ontario.
"We played together our whole girls career growing up, and then obviously separated for college," Grant-Mentis says of Watts, who was selected by PWHL Ottawa in the sixth round of the Draft. "But it would be nice to play with her again, and do what we did when we were in junior hockey. … It would be awesome."
The duo's careers have shadowed each other since they parted ways to pursue their NCAA dreams. Grant-Mentis headed east to Merrimack College in North Andover, Mass. Watts did the same, making waves at nearby Boston College, before transferring to the University of Wisconsin. It was Grant-Mentis who turned pro first, making her name with the Toronto Six before inking a landmark deal with the Buffalo Beauts that reset women's hockey's salary ceiling. Watts pushed that ceiling even higher soon after, signing on with the Six just as Grant-Mentis was leaving town.
Now, they're wearing the same sweater once again, for the first time in nearly a decade.
"Daryl and I skated a couple of times this summer, but playing an actual hockey game together, on the same team, that [last happened] like six years ago — maybe seven," Grant-Mentis says. "Somehow we've been put in the same group for everything that we've done so far in camp, so we haven't minded that at all. It's definitely fun to be back playing with her again."
Fun aside, though, Grant-Mentis is well-aware of the challenge ahead of her in Ottawa. The 25-year-old was invited to camp by the club's brass, but hasn't yet been offered a contract like other early signees around the league. And yet, rewind the tape and trace her career back to those early years with Watts, and you get the sense that none of this is new for her — not the underestimated underdog mentality, nor the inclination to see opportunity where others might see obstacles.
"It was a pretty long off-season … but, I mean, it was a lot of time to work on things, to tweak some things. So it definitely worked out in my favour [too]," she says of the tumult that led her to this week. "Coming into camp, I think I'm at my best. I've been waiting three months, basically, to start getting into the hockey rhythm, so I'm excited to get things started."
Finally, out on the sheet at Ottawa's TD Place Arena, they have indeed started. And while Grant-Mentis is technically trying out for one of the few remaining spots on PWHL Ottawa's roster, she's not sweating the task at hand.
"My mindset is just to do what I know I can do. You know, just be confident in myself," she says. "I think people kind of overthink when they're going for tryouts, and that brings their performance down. But knowing a lot of the players here, being comfortable with a lot of them, it helps me just play hockey and not have to worry about too much of the trying-out part of the situation."
Adding another layer of comfort is the fact that, while some entered Ottawa's camp with contracts inked and others must earn their place, all are in the same boat when it comes to navigating the franchise's first-ever training camp.
"It's definitely a different experience than I've been through before. But everyone that's here and everyone that's working for the team is really open to our opinions, changing things if we don't like them. So, it is a 'moving upwards' kind of [feeling]," she says. "Nothing's going to be perfect on the first try. But they're doing a really good job here in Ottawa to make us feel very professional. The last three days have been amazing."
While the familiar faces dotted throughout the camp roster are a bonus, it's a different group of faces soon to be spread around PWHL Ottawa's rink that makes the potential opportunity with the club even more worthwhile.
A few years ago, when Grant-Mentis was first mulling where to begin her pro career, it was the chance to play in front of her family that convinced her to ultimately sign with the Toronto Six. From then on, the rows and rows of family members packing the stands became a staple of the club's home-game experience.
"They didn't really get to see her as much playing out in Merrimack. But now that she plays for the Toronto Six, every home game we're there," her mother, Sandra, said at the time. "Grandmothers, great grandmother, great grandfather — everybody's there watching her."
With their pride and joy now back in Ontario, after a year Stateside in Buffalo, the 'Buckey' cheering section is already mobilizing.
"They're already starting to plan their trips," Grant-Mentis says with a chuckle. "We haven't even really gotten our schedule yet, and they're already planning who's driving, who's flying. So, it'll be nice for them to be able to get over easily."
Much is still to be determined before then, though — a few more weeks of training camp, an early-December slate of league-wide scrimmages in Utica, N.Y., and hopefully an official contract for Grant-Mentis before PWHL rosters are officially set on Dec. 11.
But regardless of the path ahead, Grant-Mentis is trying to pay it all no mind. Her focus is confined to the day ahead of her, she says. And given the nature of this particular camp — where PWHL Ottawa's brass are not tweaking a squad but building a new one from the ground up — she's not the only one.
"I feel like everyone at camp does have to prove themselves to find themselves in the lineup," Grant-Mentis says. "We've been told, 'It doesn't matter where you come from, whether you were drafted or undrafted — you really have to find your spot on the team. And whoever's working for it will get it.' I think that's a good mindset going into camp. Because although I wasn't drafted, there are still spots available to get on the team, for me to work up the lineup.
"But, you know, I'm always, always working no matter what, even if I do have a spot. So, I'm fine with the new challenge that I'm faced with."