With the advent of warmer weather, many of us look forward to returning to our seasonal properties. Afterall, if the lake is calling .. you must go!
Whether you already own a cottage, boat, RV or ATV or are considering a purchase of a big ticket lifestyle product in the near future, insurance is essential.
To help ensure you are prepared – we've round up the top five cottage property claims, so you can take the necessary precautions to avoid them. Armed with this knowledge, you'll be able to enjoy some peace of mind—and get back to the BBQ!
1. Fire (61%)
Cooking is the leading cause of fires, indoors and out. Of these, unattended cooking is the main culprit. Keep an eye on the grill and the stove and keep your cooktops clean. Always have an escape plan, test your smoke alarms regularly, keep fire extinguishers in key locations on the property and have the local emergency number as well as written directions to the cottage handy.
Carefully store firewood and combustible materials, such as spare tanks of propane and gasoline. Keep your roof and gutters free of debris, and wood-burning appliances clean and clear of flammable debris. Consider installing a lightning rod system to prevent lightning fires. If anyone smokes, make sure there is a safe spot for them to put out their cigarettes.
Before you start a bonfire, check with your local area if there is a fire ban in place. You may need a burn permit. Have some firefighting tools—hose, bucket of water/sand, shovels—on hand before you begin.
If you plan to set off long weekend fireworks at the lake, be sure to light them in an open area, a good distance away from people, buildings and the forest.
2. Windstorm / Wind Damage (17%)
Unfortunately, extreme weather is becoming more and more common.
Keep an eye on the woods surrounding your property and cut back any trees that are beginning to rot; this will limit, if not prevent, the worst damage from strong winds. Check your roof annually to make sure you're not missing any shingles or flashing. If you know a storm is on the way, remove items that heavy winds could blow or push around, such as toys, lounge chairs and umbrellas, and store them away safely.
3. Sump Pump Failures (9%)
These are most often caused by an electrical power outage, so having a back-up generator will save you. Another great idea is to use battery "backup" alarms. The alarm will notify you immediately if there is a water issue, either through loud beeping or by sending an alert to your phone. (Phone notifications are especially useful if you are away from your property.) These alarms are inexpensive and can be found at any local hardware store.
The second most common cause of a sump pump failure is clogging. Regular cleaning and quarterly maintenance can prevent this. You might also want to install a protective cover to prevent debris and small animals (like a field mouse) from causing a clog.
4. Burst Pipe (8%)
To avoid ruptured pipes, and water damage that comes with it, you need to keep water from freezing. Before the first frost, clear out water from outdoor pipes. Drain excess water from the pipe and shut off your water valves. To keep interior pipes warm through the winter months, cover them with insulation. If you're using heating cables, make sure they are well tied down to any pipes that need the extra heat to stay warm. If pipes under the sink are on outdoor-facing walls, leave your cabinets open; this allows heat from your interior space to flow under the sink as well.
If your cottage is a year-round property and you don't turn the water off during the winter, on the coldest days you may want to keep one tap running on a slow drip. This keeps water moving through the pipes and prevents freezing.
5. Falling Objects (5%)
Usually, this means trees or branches. The best way to prevent heavy branches from falling on your property is to keep them trimmed back. Staying on top of maintenance is key, as a heavy snowfall will just weigh branches down even further.
Be sure to connect with your insurance broker. By taking some of the above precautions, you may be eligible for discounts.
A few important things to remember:
Most insurance companies have a set number of times you must visit your seasonal property either per month or per year. Different policies may require different frequencies of off-season visits, so check with your broker.
Many insurers require that your primary residence policy be held with them before they will insure a secondary or seasonal property, - though some exceptions do exist! So, it's worth having a broker look into it for you. However, if you use the same provider for more than one policy, there may be benefits from multi-policy discounts and it can be easier to manage multiple renewal dates and payments.
Cottage owners should also know that renting their properties out could void their insurance policy. Speak to your broker first. They can help you make changes, known as "endorsements", to your policy to ensure you'll be protected.
Having liability insurance in place ensures you're covered, just in case there is damage to your property or harm to someone else. This includes things like an old, rusty boat that's rarely used, or an ATV kept on the side of the property as these types of things can cause "attractive nuisances" to children playing for example which, if injured, can be costly.
Docks aren't always covered. Floating docks especially are not generally included in your insurance policy. If your dock is attached to your property, there's a chance it may be covered—but always best to confirm those details with your broker.
Thinking about buying a seasonal property on an island? Sounds peaceful and relaxing, ahhh… It's also likely to have a more expensive premium. Why? Because of the cost to rebuild, which is a factor insurance companies take into account. There would be added costs, such as transporting materials and access to builders in a remote area, which drive up replacement costs and increase insurance premiums.
However, though damage from small pesky pests, such as squirrels and raccoons, can be surprisingly extensive, (so best to check if it is covered) in your seasonal property policy!
When you work with the right insurance broker, you have an advocate on your side protecting your best interests. They'll ensure you have the coverage and protection you need. When you need it most. So, you can get back to the dockside fun, lakefront sunsets and starry sky bonfires.
To learn more about recreational insurance, visit Gifford Carr Insurance Group or call 1-855-740-4700.
Gifford Carr Insurance Group is hosting a virtual "bonfire" chat with some industry experts in Insurance, Real Estate and Mortgage/Finance to discuss all things Cottage Life. Join them on April 27, 2021 from 3:00-4:00 pm.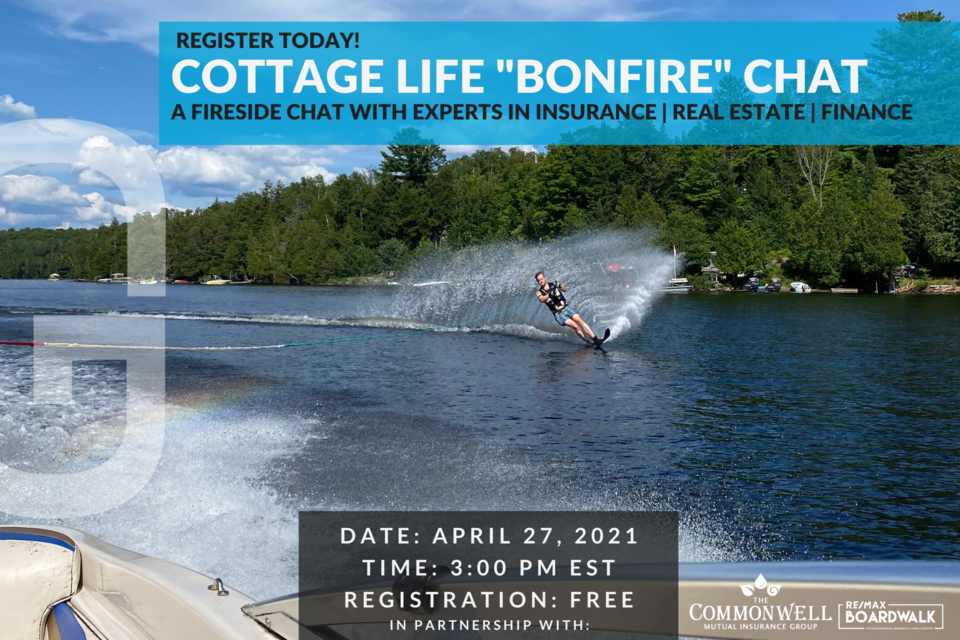 *Statistics provided by Commonwell Mutual Insurance.