Everyone deserves to live without the fear of violence. For women and their kids who are trying to leave an abusive home and start fresh, the transition can be incredibly difficult. Here in Ottawa, there are a number of shelters that help, including Harmony House.
Harmony House is Ottawa's only transitional 2nd stage shelter for women and children. They help families by providing medium-term housing and support services that allow women and their kids the chance for a fresh start after leaving a dangerous home environment.
This year, Royal LePage Team Realty has pledged a matching donation for Harmony House throughout the month of November.
Royal LePage Team Realty a Long-Time Supporter of Area Women's Shelters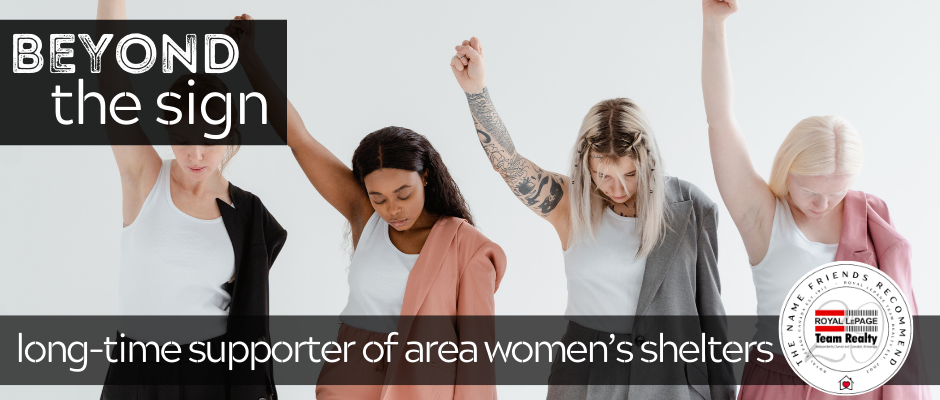 The real estate agents and office of Royal LePage Team Realty have been raising money for area women's shelters for a number of years.
Many of their REALTORS® choose to donate a portion of each sale towards the Royal LePage Shelter Foundation, which allows 100% of their donations to go back to Ottawa-area shelters. On top of their commission-based donations, Team Realty agents have raised funds in a wide range of creative and incredibly generous ways like hosting comedy nights, community BBQs, a beard shaving fundraiser, clothes sales, silent and live auctions, a chili cook-off, trekking in remote areas of the world, and even hosting pool parties for donations.
"Team Realty agents are unbelievably generous," says Mary Browne, a long-time supporter of the Shelter Foundation and wife of Team Realty's Founder Kent Browne. "Anytime you mention the shelters, money comes flowing from the team."
Giving Tuesday Matching Pledge for Harmony House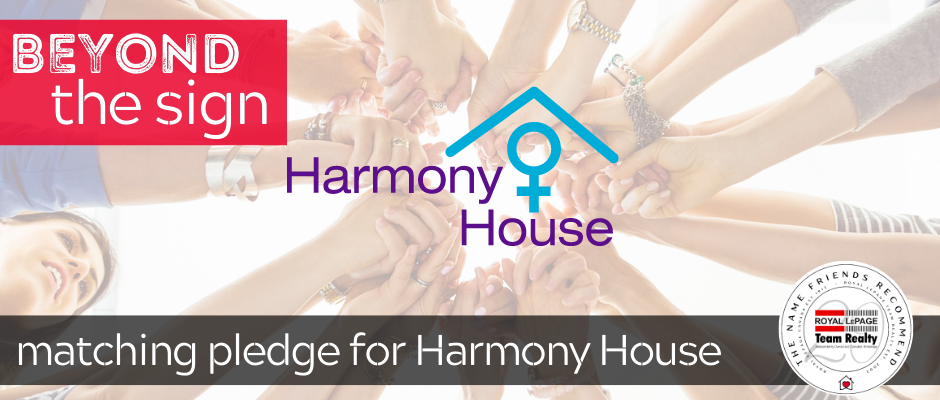 Last year, Kate Ralph and Rosalee, two tireless volunteers, were able to use a portion of Team Realty's shelter donations to update the residences at Harmony House in order make them more comfortable and welcoming for the families.
"We upgraded the units with new furniture, light fixtures, rugs, towels, etc. to make all of the units feel like a home so the families that live there can start to heal," says Kate.
This year, Royal LePage Team Realty is pledging to match donations up to $20,000 for Harmony House through their Giving Tuesday campaign. The combined donation of $40,000 is earmarked for an important project.
Kate explains, "The basement flooded at Harmony House, which has ruined a lot of the items that were stored down there for the families. We are hoping to raise money to buy storage racks with wheels and storage bins to keep the products safe so if they do get another flood, nothing else will be damaged."
Giving is Part of The TEAM Realty Culture
Over the years, the generous REALTORS® at Royal LePage Team Realty have raised funds to support a number of area shelters, including the St. Joe's Women's Centre. The group has also raised money for a number of other organizations that support a strong community like Camp Trillium for kids living with cancer, the Capital City Condors, the Rose Ages Breast Health Centre at Ottawa Hospital, CHEO Foundation through their work with Wesley Clovers Parks Magic of Lights, the Queensway Carleton Hospital, to name a few. In December, Team Realty will be focusing their efforts on local food banks as well as Toy Mountain.
"It's not always about cutting a cheque," says Jason Broker of Record and President of Royal LePage Team Realty. "Our agents also give generously of their time to support a wide range of causes, including assisting at the warehouse each year at the Snowsuit Fund"
If you would like to support Harmony House and double your contribution through Royal LePage Team Realty's Giving Tuesday matching pledge to Harmony House during the month of November, you can donate online.